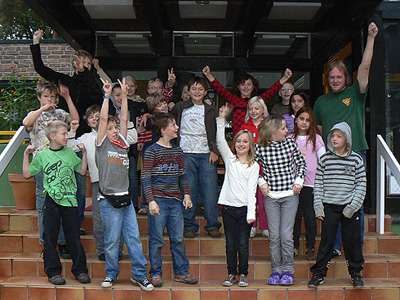 What a month! Shortly after the class-trip to "Autostadt Wolfsburg" I joined "my" class 4c again. I have as well been charged for driving some kids to
Hankensbüttel
with my van. It's been a really cool time with the kids. 19 kids and two teachers (I've been the second for that trip) on the road and outside of a regular schoolday. A lot of responsibilty for the kids & for the class but no problem for me and not at all with these awesome kids!
After the trip from Altwarmbüchen to Hankensbüttel the first day we did a rallye through the city to get it to know a bit more (see first three pictures). The rallye has been quite long in the end. The second day we were introduced to shooting with bow and arrows (see pictures below) and in the afternoon we did a trip to a museum of hunting (
Jagdmuseum Wulff
) where we got very wet because of very rainy weather.
On Wednesday we visited the local clarification plant and did a research trip to a brook (little river). On Thursday, already our last whole day we visited the
Otterzentrum Hankensbüttel
. On Friday we drove back home after cleaning up everything in the youth hostel and in the late afternoon I got ready for our participation at the regatta in Celle on Saturday.