My affection for drums and drumming started at the beginning of the nineties. It originated from some drum-parts from live CDs of bands like Status Quo "Live Alive Quo" and Helloween "Live in the UK". My drums and my style of drumming changed a lot during the last years. It has mostly been influenced by drummers like Jeff Rich (former Status Quo) in the very first beginning, Thomas Nack (former Gamma Ray, now Iron Savior), Uli Kusch (Ex-Helloween, Masterplan) and lately by Mike Terrana (Rage, Axel Rudi Pell,...). Here you can find out about my first drums and about the different periods playing together with some bands. My first drums were an old Tama "Superstar" with concert-toms and one bassdrum (pictures will be added). I got the money for it by selling my expensive stereo system to my brother. My second drums were by Premier and I still favour that brand although in my eyes the quality of their middle class drums diminished in quality. On the left side you can see one of my sets I today have, a Premier XPK from the end of the nineties. If you know the set up of Mike Terrana's drums, you will find some similarity to my set up. My newest set is the original "Gamma Ray Land of the free" recording set, an 1994 built Premier Genista in turquois lacquer. See infos below!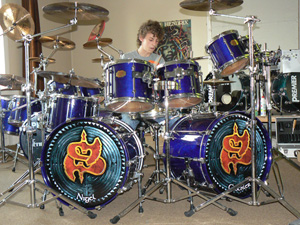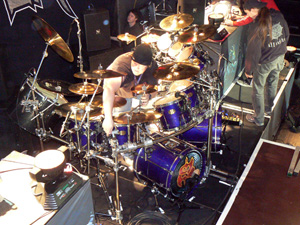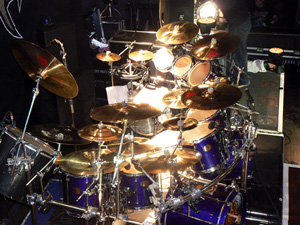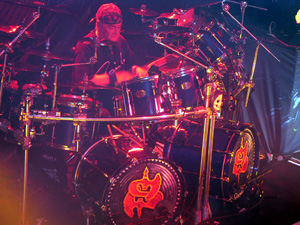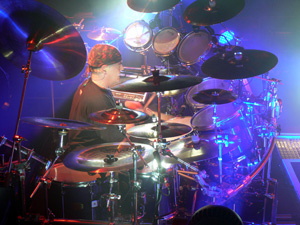 First in use again with Saxon on their "Battalions Of Steel" Tour Part I at the beginning of 2009
(1-4): Live in Herford, GER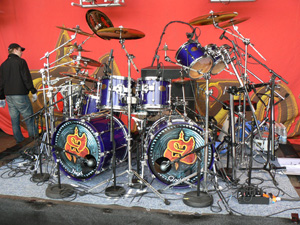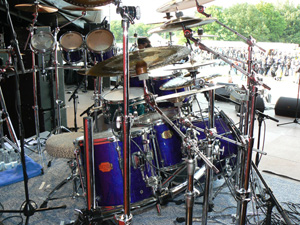 The Saxon Spare Drumkit built in Denmark at the Esbjerg-Festival 2009



My "new high paid working place" for Nigel live at the Esbjerg-Festival 2009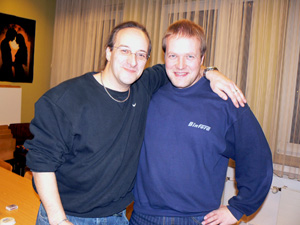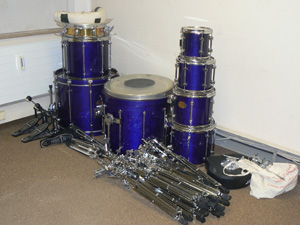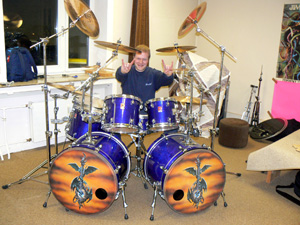 In November 2007... Thomen Stauch, former drummer of SAVAGE CIRCUS and of course for about 20 years of BLIND GUARDIAN as well came to my/our practicing room. He got in contact to "Yeti" at a festival and she offered him to keep the former Blind Guardian set for him in our practicing room. Well I have to admit that I had been quite surprised about the whole story of and with Thomen and how they got to do that "deal". On the picture above it's me with Thomen (1) and me behind my XPK set but with awesome Blind Guardian bass-drum frontskins.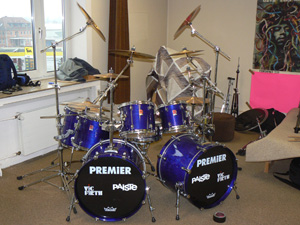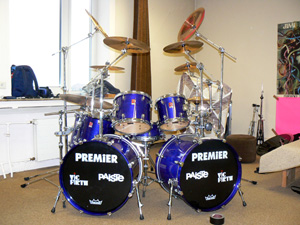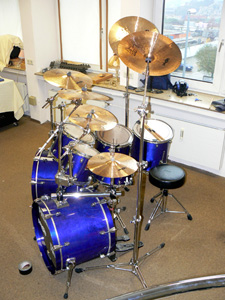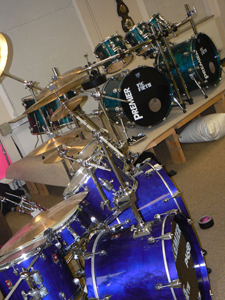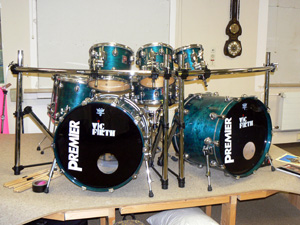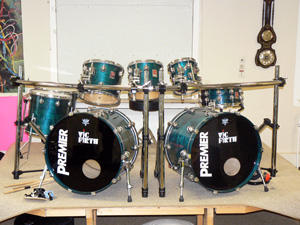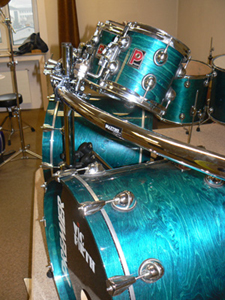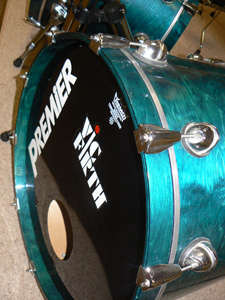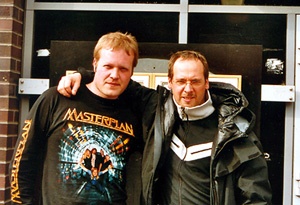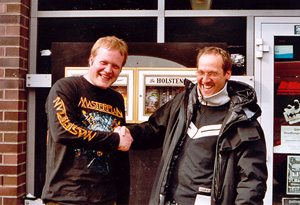 In March 2005 a kind of new era of drumming was about to begin for me. I met Thomas Nack (Iron Savior,...) in Hamburg and got his Premier "Genista" drumset, he directly got from Premier (UK) in 1994 for the recording of one of the all time greatest metal-albums: Gamma Ray: "Land Of The Free", featuring Michael Kiske as guest musician and Kai Hansen. It is the former highest range of drumset Premier sold during since the 90's up to some years ago. Thomas sold it to me because he is about to get a new handmade set from a friend of him and Thomas also owns a Sonor drumset. He is happy that it is not too far away and of course in good hands and he will perhaps will borrow it (maybe the cool snare drum) for some future recordings.
The pics you can find here now are not the final ones... I will sell the red Premier Cabria drumset and maybe change parts of the hardware setup from the new Genista setup. So watch out for hot new drumming stuff in the future, because also some little videos will be posted right here!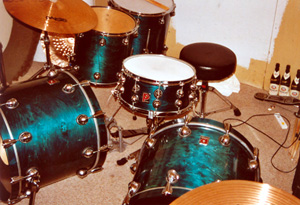 The new setup of the Premier "Genista" is getting ready!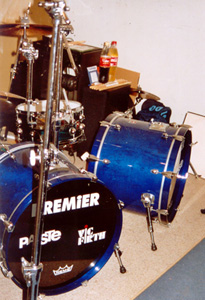 Changing the bassdrums from the old "XPK" to the new "Genista" bassdrums! ;-)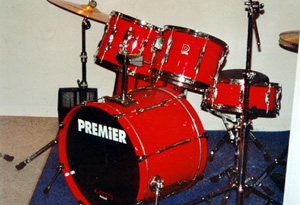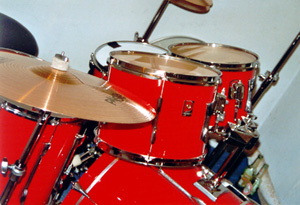 (1+2): My second drumset Cabria red-laquered (the one for my students - hiho Johanna!)
I owned this set from August 2003 - April 2005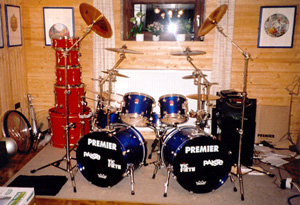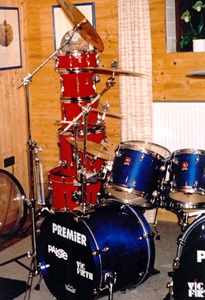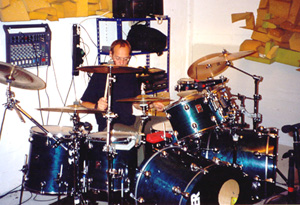 (1): "Mr. Thomas Nack on the drums!"
Playing the one and only Premier Genista
(Recording Set from Gamma Rays "Land Of The Free")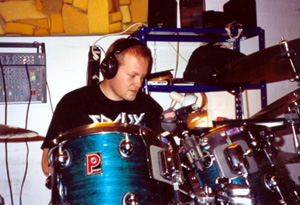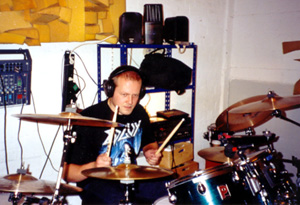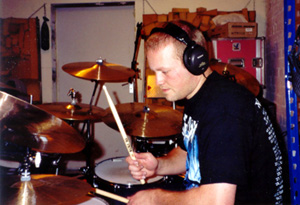 (1-3): Me on the same set in the Iron Savior practicing room

Christopher's Set since 2003: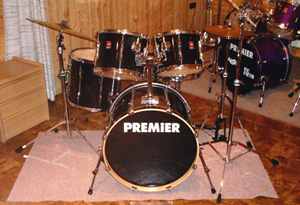 (1): This are the drums I bought for Chris in 2003, a black-laquered PREMIER "CABRIA".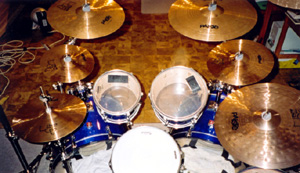 (1): Here my set from a "bird's-eye-view"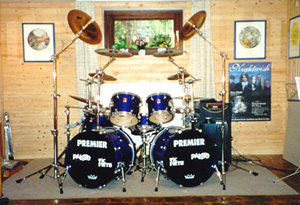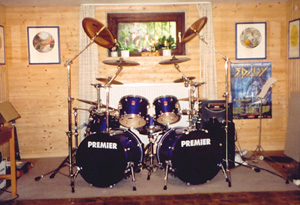 (1): The new bassdrum skins with "Paiste", "Remo" and "Vic Firth" logos
(2): The double-bass kit first time in the "Mike Terrana Layout"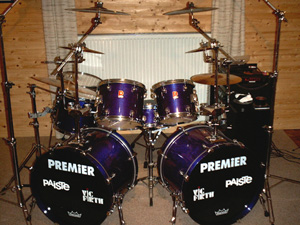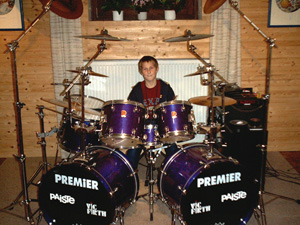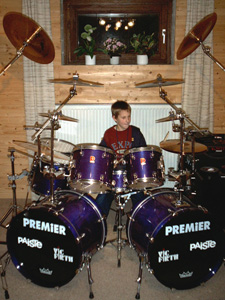 (2+3): Christopher, one of my former students behind my drumset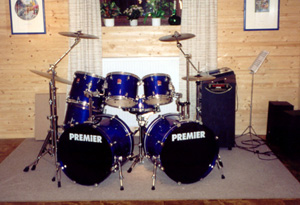 (1): "Promoshot" of me with my drums; (2): The new finished setup, still with three toms in the front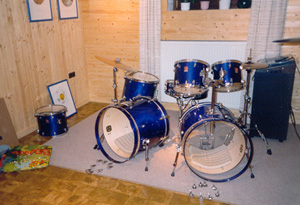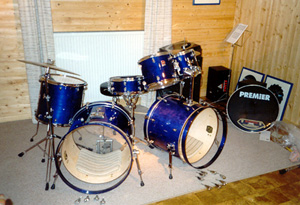 (1+2): Finally getting started with a double bass set...



Some old memories...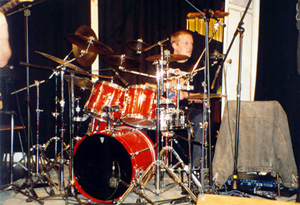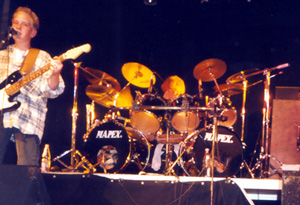 (1): Me together with "Silent Storm" in 2000 playing probably an old PREMIER "XPK"
(2): Me together with "Radio Active" in 1996, playing a MAPEX set in the "Faust/60er Jahre-Halle"