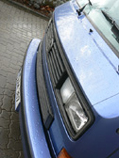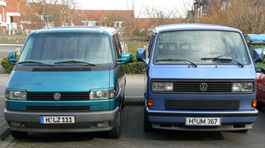 Well, what the hell is this? After my miscarried "Limited Last Edition" Diesel tryout and first thinking about getting a new motor for it, I decided that this choice would become almost as expensive as selling it and getting a different T3. I started looking very carefully for another van to buy, because I didn't want to make same mistake as before.
There were some cool vans around, but I still felt unsure or sometimes if I was about to buy/check one, it has already been sold. In January 2008 I found a T3 Multivan Bluestar at autoscout24.de that came from Hannver/Ahlem and I realized that I already knew that van, because I have already seen it some times before in my neighbourhood of Davenstedt. The selling person and his son have been VERY kind. It's been a really great van in brilliant condition with automatic gearing. To be safe, I asked VW to check the van to see if it has any damages or broken things but it passed the exam without any big mistakes, the only thing that's been a minus is that it won't get any environment badge, which here in Hannover and some other German towns means that I am no longer allowed to drive into the city zone.
I had to wait one more month until the seller was willing to finally sell the van at the end of February and until I had all the money to buy it. It's been first hand bought from a former VW-worker; it's not been easy at all for him selling the van. I love driving that van, it's a f****** cool feeling driving it and meeting other T3 drivers on the road!
| | |
| --- | --- |
| Type: | T3 Multivan, "Bluestar" Hannover Edition, 2.1l (DJ) |
| Color: | "Starblue metallic" |
| Build: | 1989 |
| Registration Date: | 14.07.1989 |
| Motor: | 2095 cm³, 82 kW/112 PS, 4 cylinder |
| Fuel type : | Benzin, Super+, 98 OZ (normal petrol) |
| Transmission: | automatic gearing (four gears) |
| Maximum speed: | 160km/h (~100 mi/h) |
| Price paid/original price: | 6.000 Euros / ~42.785 DM (for the 95 PS automatic machine) |
| Owners before me: | ONE!!! |
| km (29.02.2008) | 137.300 km (~ miles) |
| km (08.08.2008) | 147.000 km (~ miles) |
| km (09.06.2009) | 167.300 km (~ miles) |
| km (29.02.2010) | 180.200 km (~ miles) |
| Longest trip: | Hannover to Raard (NL): 355 km (one way) |