April 2007 - April 2008
My second flat in Hannover - Wettbergen, 3 rooms, 80,16 m² on the ground floor. I needed to change places together with Tamara, because the flat in Davenstedt had become to small for the two of us and what is more I wanted to end the time in Davenstedt after the split with the rowing club and start a new beginning at a different place. The new flat was more expensive of course but first of all I wanted to one day life together with Tamara in it without her having her own flat.

My kitchen (~ 10,43 m²)
I decided to take my kitchen from my first flat with me, because I liked it a lot and didn't want to buy a new one, nor did I have the money for it. I could add some more parts to it and this time the kitchen is in L-form. The room is big enough to have a table inside as well, but we have been used to eat in the living-room we didn't use the table in the kitchen that often.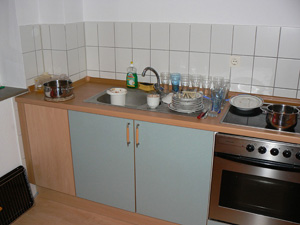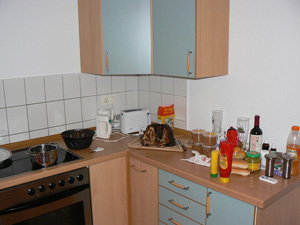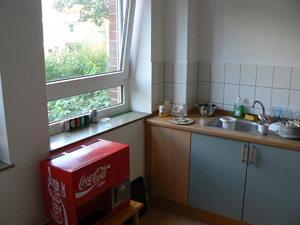 (1-4): My kitchen in September 2007

My living room (~ 26,38 m²)
A very huge living-room this time. First of all, too many white walls, but at the end, ready decorated a really cool room including a place for my Concept II rowing-ergometer. I have been able to hang up many more posters in this flat than in the one before, so good choice and cool to see what before had only been somewhere in the storage room under the bed.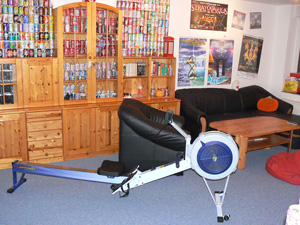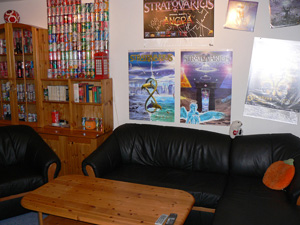 My living-room in the afternoon, Sept. 2007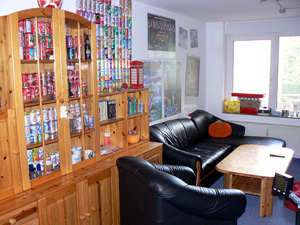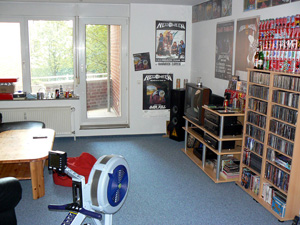 My living-room at daylight, Sept. 2007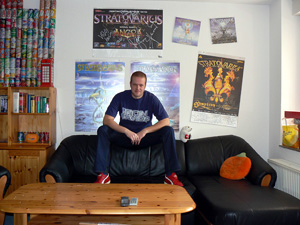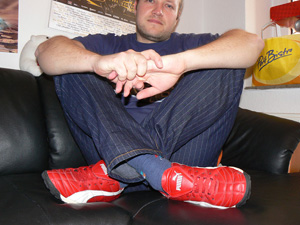 (1+2): Just me... in my living-room with my new Savior-T-shirt, September 2007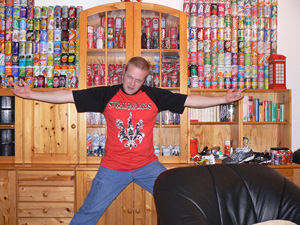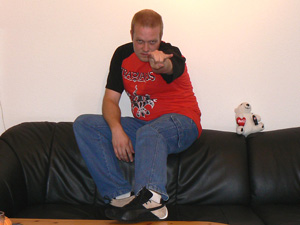 (1+2): ...on Tamaras birthday (01.07.2007) in my new Strato-Shirt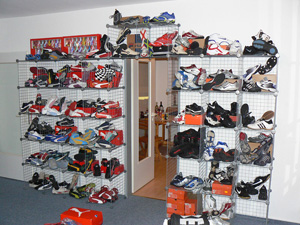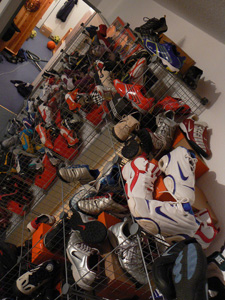 My new sneakerwall with the coolest shoes of my collection and a tunnel
where you walk under the shoes into the kitchen, end of Feb. 2008.

The bedroom (~ 13,74 m²)
This is the bigger room of the two besides the living-room. It became Tamaras room for the time we lived together in Wettbergen and it is also our sleeping room. Tamara bought some furnitures for herself for that room and took them to her flat afterwards.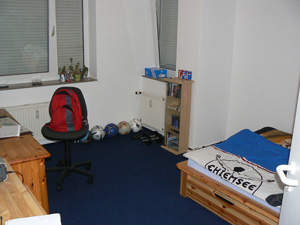 (1): Our bed where we had it at the beginning and (2): Tamara's working place and computer

My corridor (~ 9,49 m²)
One special thing of this flat is the huge and long corridor you came into when you visit me. Very long, but dark corridor where you always had to switch on the lights. I put my wardrobe there to use the place it offered. Also enough space for many of my Metal posters!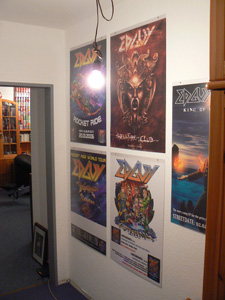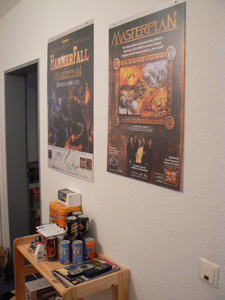 (1+2) My corridor with Metal posters, (3) same, seen from the living-room

My workroom (~ 9,98 m²)
This is my working-room with the new huge working desk and with the two PCs. On the left hand there still is the guest-bed I used as a tray or when I wanted to sleep on my own. I had different set-ups in that because it is not easy at all to put in everything I need for work and all my stuff I own.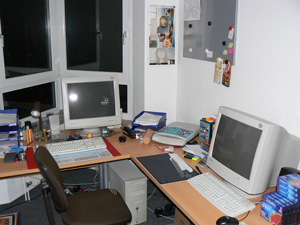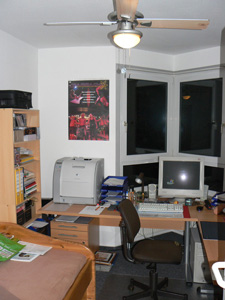 (1+2): My working-desk in the afternoon, September 2007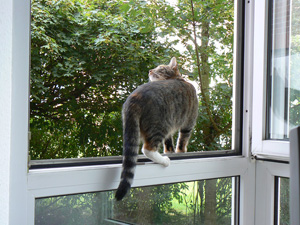 (1): "Einstein", one of the cats who visit us regularly on the roof of the bay into the green in my working-room

My bathroom (~ 5,51 m²)
My new bathroom had a window and a water tube, great to have that.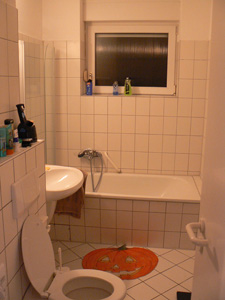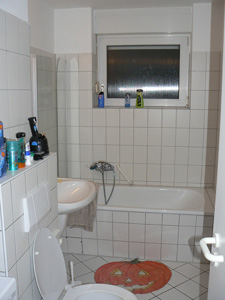 (1+2): My new bathroom, Sept. 2007. One picture without a flash light, one with.

My balcony (~ 3,16 m²)
[not worth to be shown, not tidied up, no flowers, nothing else to be seen] :-(